specialist manual
pressure sprayer
industry ergo™
alka
1000, 1500, 2000, 3000
With the introduction of the ergo™ series, the industry has gained an amazing tool. An alkali-proof sprayer that is also light and handy. You do not need anything more anymore.
Disinfection of devices
The industry ergo sprayer is an excellent choice for gyms and professionals dealing with disinfection. The ability to regulate the jet, simplicity of service, and reliability ensure that it is chosen by professionals from around the world.
Disinfection of machines
Even with large production lines, it is easier to get to the corners with a smaller sprayer. The industry ergo sprayer is great for disinfecting even large, fully automated production belts in food processing plants and manufacturing companies.
Washing car windows
An adjustable nozzle in the industry ergo sprayer allows for very thorough coverage of car windows with a cleaning agent. Turning the nozzle to the maximum, you gain 90 degrees of spray angle and a very fine drop ideal for cleaning agents.
Washing windows
Big glass panes and huge storefronts are no longer scary since in the ergo industry sprayer we've used the auto lock button, and the comfortable, contoured handle makes you hardly feel that you have it in your hand.
Washing rims
Aluminum rims are nice, provided they are clean. With the help of the industry ergo sprayer you can easily apply a cleaning formulation on the rims, and with the 3d-flex system, you can hold the sprayer in any position.
Car paint care
Applying care products to car paint is much easier when you have an industry ergo sprayer in your hand. The wide range of capacities, efficient pump and button lock make it an excellent choice.
Solutions used in our products: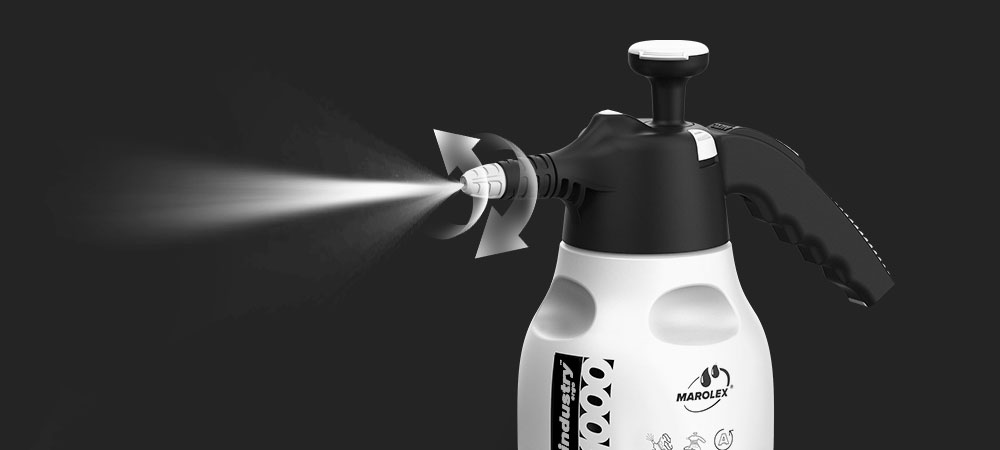 | | | |
| --- | --- | --- |
| 3D Flex |   | 3D Flex is a construction that gives more freedom of use. Sprayers with 3D Flex can work in any position, even with the tank facing up. Thanks to this solution, you will reach even the most inaccessible nooks and crannies with unprecedented ease. |
| | | |
| --- | --- | --- |
| Smart Bottle |   | The ergonomic profiling in the sprayer tank allows for a comfortable and secure grip. This significantly improves the comfort of work, minimizing the force needed to unscrew and tighten the head. |
Nozzle with
jet regulation

 

Nozzles in our sprayers have a smooth adjustment of the spray angle from a very wide to a single jet. All you need is one nozzle that can be used for both watering and fogging.