specialist manual
pressure sprayer
industry ergo™ acid
1000, 1500, 2000, 3000
With the introduction of the industry ergo™ series, the industry has gained an amazing tool. An acid-resistant sprayer that is also light and handy. You do not need anything more anymore.
Washing rims
When you work with acidic detergents for rims, you expect the sprayer to be durable and safe. Industry ergo is just that, and it has the ability to exchange the nozzles.
Cleaning and maintenance of steel surfaces
Stainless steel is easiest to clean with acid, and the industry ergo sprayer was created to make your operation as easy as possible. The 3D Flex system allows you to work in any position, increasing your reach.
Cleaning glass surfaces
We have built a new version of the manual industry sprayer from scratch to provide it with even greater chemical resistance and failure-free operation. Thanks to it, you can even use very active agents in a convenient and safe way.
Cleaning and degreasing of all surfaces
Acid agents can also be used for degreasing. With the help of the manual sprayer, you conveniently spray the preparation onto the surface to be cleaned and easily remove fat.
Cleaning car engines
Industry ergo is ideally suited to the workshop when cleaning car engines from lubricants and other substances. Washing the engine has a positive effect on its operation and of course the visual effect.
Solutions used in our products: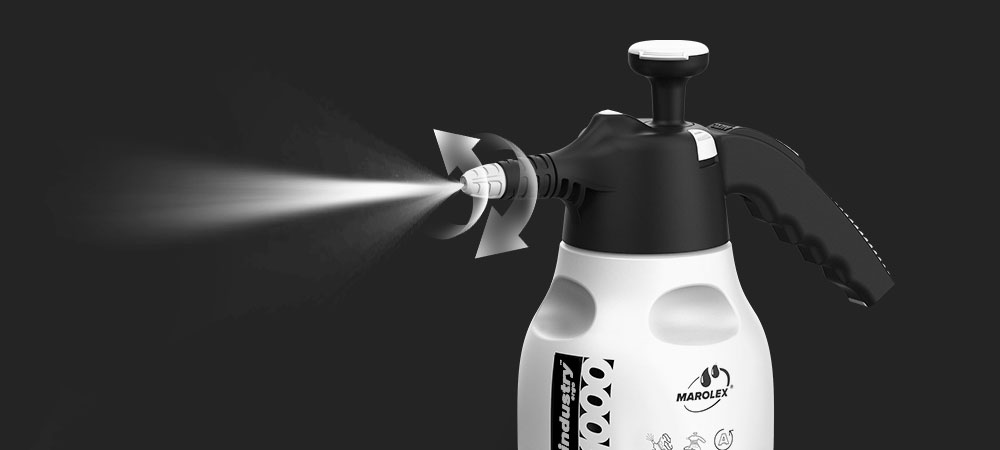 | | | |
| --- | --- | --- |
| 3D Flex |   | 3D Flex is a construction that gives more freedom of use. Sprayers with 3D Flex can work in any position, even with the tank facing up. Thanks to this solution, you will reach even the most inaccessible nooks and crannies with unprecedented ease. |
| | | |
| --- | --- | --- |
| Smart Bottle |   | The ergonomic profiling in the sprayer tank allows for a comfortable and secure grip. This significantly improves the comfort of work, minimizing the force needed to unscrew and tighten the head. |
Nozzle with
jet regulation

 

Nozzles in our sprayers have a smooth adjustment of the spray angle from a very wide to a single jet. All you need is one nozzle that can be used for both watering and fogging.